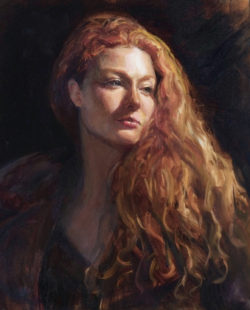 This unique 9 week class carefully moves through the different stages of creating a successful oil portrait. Starting with a rendered black and white sketch in charcoal or pencil; where we evaluate shapes, values, and proportion. Next we each create a small scale color studies, to simplify the overall color choices we will be using. Color mixing using "limited palette"color strings will be demonstrated. Finishing with a larger, fully realized oil portrait on linen.
We will be working from a live model.Underpainting will be demonstrated as a way of simplifying light and shadow patterns, expression and facial anatomy.
This limited size class (4 students) provides one-on-one instruction, demos, and critiques to help you maximize artist growth.
Class Dates: October 5-December 7th (no class Nov. 23)
Time: Thursdays 6:30-9:30 PM
Place: The Centreville Art Students' League/
Linda Harris Reynolds – Fine Arts Studios
The Frederick's Country Center, 5714 Kennett Pike, suite K Centreville, DE 19807
Cost: $495. ($355. Plus $120.model fee)
Email: LHRportraits@aol.com URL:lindaharrisreynolds.com studio:302-655-6970